Division 2 Project Archive
Completed service projects of Division 2
2005 donation to Waikato Hospital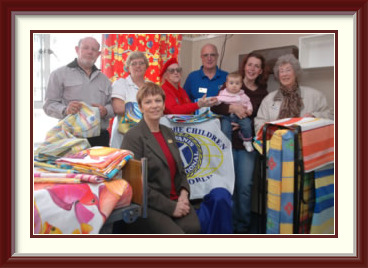 In 2005 the five clubs of Division 2 contributed a significant amount of time and money to buying beds, chairs and bright bedding and fittings for the children's wards at Waikato Hospital (the large regional hospital in our area). Prior to this donation of rollaway beds, recliner chairs and cheerful bedspreads, parents wanting to stay with their children in hospital had to sleep on mattresses on the floor.
"A most uncomfortable situation for parents who are already having to cope with the stress of their child being in hospital," said clinical nurse leader Betsy Smith. "This is a wonderful gift to children and their parents from the Kiwanis." Five Kiwanis clubs – Matamata, Morrinsville, Te Awamutu, Kirikiriroa, and Westside – all contributed to the purchase of 18 rollaway beds and two recliners. Thirty bright bedspreads have replaced drab hospital greens, giving the children's wards an instant lift. A big thank you to the Kiwanis from Waikato Hospital. We appreciate the fruits of your labour - sausage sizzles, firewood sales, garage sales, and the like. Thank you also to the people at the Soft Furnishing Shoppe in Hamilton who got the fabric at discount prices and then whipped it up into fabulous bedspreads.
For more children's health projects funded from the proceeds of the Division 2 charity golf tournament, see here.
The Gateway Games
A sports competition for intellectually handicapped youngsters was held yearly in Matamata in the Waikato from 1978 to 2004. Approximately 100 competitors competed for the medals offered for numerous events. More information about the Gateway Games can be read here.
The games were always a highlight for the participants and the medals that they won were highly prized. The Gateway Games has been discontinued due to the changing infrastructure in New Zealand - fewer intellectually handicapped youngsters now have ties to institutions or belong to "Gateway Clubs".
Kamp Kiwanis
A week at camp held annually for underprivileged children of the Waikato. The Kamp gave 15-30 children a week in the outdoors at Ngatuhoa Lodge in the Kaimai mountains. Eight to twelve adults ensured that the children have plenty of supervision and activities. The last Kamp was held in April, 2005. Read more about Kamp Kiwanis here.
Chairperson for 1995/2005: Bette Eavestaff
Australia/New Zealand Youth Exchange
Division Two (Waikato) of the New Zealand South Pacific District and Division Six (Melbourne) of the Australian District each sponsored a trip to the other side of the Tasman Sea for a deserving teenager selected from their respective areas. These trips normally took place in the September/October months. The project has been indefinitely suspended due to bureaucracy in Australia. The story of how this annual project got started can be viewed here.

Candidates selected for the exchange program:
Year
Name
From
Comments
1994
Rebekah Muir
Australia
Briar Spriggens
Matamata, New Zealand
1995
No selection
Australia
Pauline Calder
Morrinsville, New Zealand
1996
Stephen Greene
Melbourne, Australia
Jill McPherson
Putaruru, New Zealand
1997
Katherine Bannon
Melbourne, Australia
Michelle Isbister
Morrinsville, New Zealand
1998
Hannah Penberthy and Lisa Ellman
Melbourne, Australia
One of the highlights of their visit was an adventure caving expedition to the Haggas Honking Holes (kindly donated by Waitomo Adventures Ltd.)
Lisa Woolerton
Otorohanga, New Zealand
You can read all about Lisa's trip experiences by clicking here.
1999
Stacey Redman
Melbourne, Australia
Michelle Wilcock
Hamilton, New Zealand
2000
Rachel Parnes
Melbourne, Australia
Peter Hughes
Morrinsville, New Zealand
You can read all about Peter's trip experiences by clicking here.
2001
No exchange took place
2002
No exchange took place
2003
Kerry Smallwood
Melbourne, Australia
Debbie Sutton
Hamilton, New Zealand
2004
Elise Woodrow
Nunawading, Australia
Kani Puru and Sarah Westbury
Hamilton, New Zealand
2005
No exchange took place
2006
Judy Ng
Waverley, Australia
You can read all about Judy's trip experiences by clicking here.
Joshua Verstraten
Matamata, New Zealand
Exchange Program Chairman for 1999/2007 - Grant Gardiner (Te Awamutu).